ADVANCED HENNA BROW TRAINING
Details
Being a brow stylist is more than just plucking and coloring your hair. It is a true art mastered by many years of experience and thousands of eyebrows. When it comes to beauty, your client can get emotional and it's your job to make her shine.

Henna Couture is the brand we use in our training. Henna Couture is 88% natural Henna. Cruelty free and made in an ecologically oriented factory with a work ethic that cares for people and nature. Henna Couture is made from the finest selected henna from India. It takes 5 to 20 minutes to develop and leaves an imprint on the skin that lasts up to 14 days.

This 1 day training is a perfect addition to your salon. You will be taught by one of our Henna Couture brow specialists. During the training you will learn the basics about the face shapes and the associated eyebrows. So you start at the beginning during the theory part. After the theory part we will move on to the models all afternoon. In practice, henna will be the main focus of this training.

TRAINING CONTENT
- Various shaping techniques
- Advanced leather folders of the eyebrow
- Henna staining techniques (mixing, preparation, application, etc.)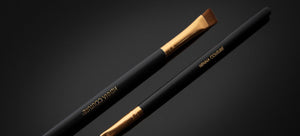 Training modules
This course consists of a theoretical module as well as a practice module where you train on a real model.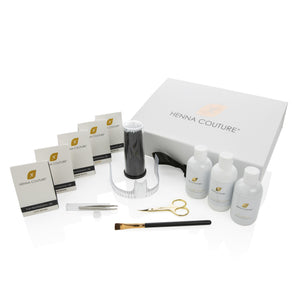 Starter kit
You will receive the starter kit including all products. During the training you can purchase more products like brow paint if you like and get a special discount of 15%.
After the training you will receive a certificate. 
Course FAQ
Yes, you will have to bring your own model. We will send you an email before the training and we will let you know how many models you have to bring.