TRAINING PRO MADE VOLUME LASHES
Details
Making a symmetrical, beautiful fan takes months (sometimes years) of practice, a lot of patience and skill. Many lash technicians have tears of frustration learning volume in our training – and we're definitely not kidding! Because time is precious and times change - also for our customers. Have the prepared volume fans come onto the market? Pre-prepared volume fans are easier to use than handmade ones. Especially if you are new to volume technology or if you want to save time during your appointments. By placing the prepared volume fans you can efficiently deal with the time in your agenda and that of your customers!
During the course we will learn the difference between the various volume techniques, we will tell you our do's – don'ts when setting and choosing prepared volume impellers and we will tell you how to achieve the best retention with the prepared volume impellers that sometimes reach a fan of 12 (!!) eyelashes.
TRAINING
- 9:00 a.m. 1:00 p.m.
- Theory
Various volume techniques and their differences
How do I create the very best retention?
Learn various new eye styling effects
What price should I charge for a new set and a filling treatment?
Specific extra supplies
Do's and don'ts
- Placing the prepared volume fans on a model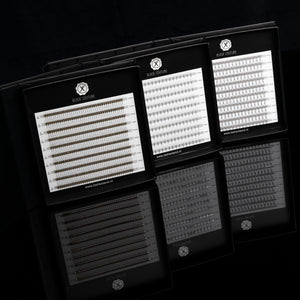 Training Modules
This course consists of a theoretical module as well as a practice module where you train on dummy skin and a real model.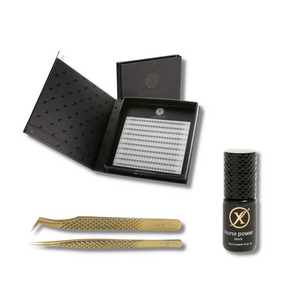 Starter Kit
The starter kit contents all the products you need to start with your pro made volume lashes.
After the training you will receive your certificate. 
Course FAQ
Yes, you will have to bring your own model to the training. 
Yes, there is free parking at the location.