SPMU COUTURE ALLROUND LIPS TRAINING
Details
THE WORKING METHODS
Semi-permanent make-up or SPMU is the introduction of pigments into the dermis. This is done in combination with a special PMU device in which a needle/hygiene module is placed. In terms of technique, it resembles a tattoo, but the goal and the products of this treatment are different. A tattoo is placed in a deeper skin layer and is therefore permanent. Semi permanent makeup is a safe way to beautify your eyebrows, eyes or lips. We work with professional, EU-certified products. Our pigments are specially designed for the face. They contain no added fragrances or emollients.

THE TECHNIQUE
Just like eyebrows, lips are an important and prominent part of the face and partly determine your appearance. Lip pigmentation is a semi-permanent make-up technique in which pigmentation is subtle with a machine sterile needle. This allows you to optically create more volume, make the lip line more visible and/or there is the option of (completely) coloring the lip for an even, fresh look without the use of lip fillers.

SPMU Couture Allround Lips training (3 days)
This 3 day training is a perfect addition to your salon. It is a true art that is mastered by many years of experience and knowledge. You will be taught by our professional, skilled trainer who has sufficient experience and knowledge. During the training you will learn the basic facets of the profession. The theory part is extensively offered in our training courses. In addition to the theoretical parts, demos will also be given and we offer you the opportunity to work on a model in practice under the guidance of our trainers. During all training days we provide an extensive lunch.

DAY SCHEDULE
Day 1
On the first day in the morning we will mainly focus on the theoretical part. The following topics are covered here:

Skin anatomy and physiology
Various micropigmentation techniques
Everything about lip pigmentation (Contra indications – treatment – techniques/effects)
From A-Z help starting a successful salon
color theory
Equipment & Supplies
Practical parts will be offered in the afternoon. These practical parts consist of: In depth "pigments", lip mapping, practicing on a silicone practice skin and in between viewing a demo model given by one of our trainers.

Day 2
On day 2 we still work on our silicone practice skins in the morning. After lunch we will discuss any questions, comments and problems prior to handling the models. One model is needed for this day. You must take care of this model yourself. The confirmation email will describe the time at which the model must be present at the location.
This practical part focuses on personal attention, support and guidance. Our trainers ensure that each student is individually and adequately supervised.

Day 3
SPMU Couture stands for quality and therefore has their students treat an extra model on the last, third day. Extra guidance and support is again central on this day. The official SPMU Couture certificate is also awarded in the afternoon.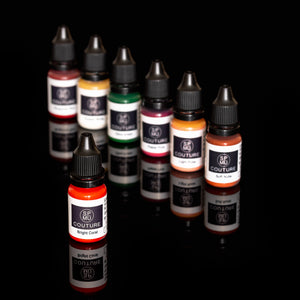 Training Modules
This course consists of a theoretical module as well as a practice module where you train on a real model.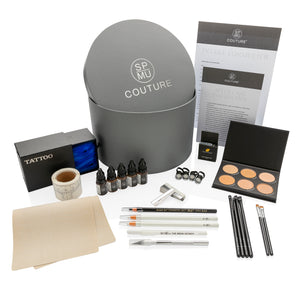 Starter Kit
The training is offered including a starter package. The SPMU Machine can be purchased optionally with the package. At the beginning of the first training day you will receive a theory book and a starter kit containing all the equipment you need to practice the treatment. We also offer you the opportunity to purchase products in our showroom at a discount on the training days.
After the training you will receive your certificate. 
Course FAQ
Yes, you will have to bring your own model to the training. 
No, we will arrange the lunch for you.
Yes, there is free parking at the location.
Yes, it is possible to use your own machine.